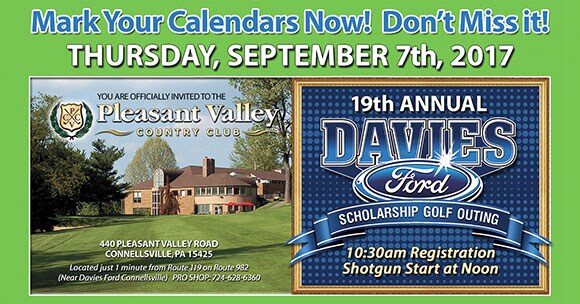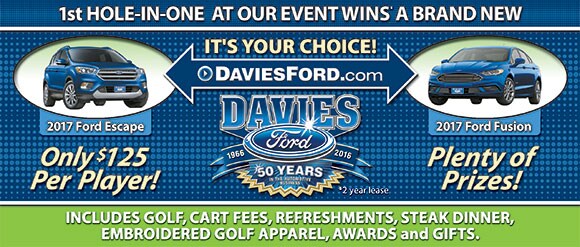 YOU AND YOUR FRIENDS ARE INVITED!
A GREAT EVENT... PLUS HAVE YOUR CHANCE TO WIN ONE OF 2 BRAND NEW FORD VEHICLES FOR THE 1ST HOLE-IN-ONE!

Twelve years ago, Davies Ford established Scholarship Funds for the benefit of outstanding students in our local area.  Each year, a total of $6,500 in Scholarships (1 - $1,500 and 1 - $1,000 to each school) has been awarded to students in the Connellsville and Charleroi Area High Schools. Plus, nine years ago we began to award a $1,500 Scholarship to a student from Geibel High School.

Over the past 18 years, the Davies Family has raised over $150,000 with their Charity Golf Outings. Our past Charity recipients have included The Mon Valley YMCA, The Mt. Pleasant Regional YMCA, The Westmoreland and Mon Valley American Red Cross Chapters, The Connellsville Area Community Ministeries, plus the New Haven Hose and Charleroi Fire Departments.

Registration begins at 10:30am with a Noon Shotgun. $125 includes 18 holes of golf and cart, food and drinks, dinner following our awards ceremony where we will be giving away plenty of great prizes!  Tee signs and various sponsorships are available for anyone who would like to help our cause... In fact, when you register a foursome - receive a FREE Tee Sign. We are looking forward to seeing everyone there!